Personal Information
So, you think you want to know something about me? (I can't imagine why, but I suppose you can - that's why you're here.) I won't go into great detail here, but I will tell you that my name is Anthony Upton (Tony for short) and I'm 30 years old. I live in Zuni, Virginia, which is a very small town in the southeastern part of the state, about 45 miles southeast of Petersburg. Besides Celtic music, my interests include reading and writing poetry (among other things), running, playing basketball, and playing (and coaching) football.
If for some reason, you'd like to know what the weather is like right now where I am, the graphic below will let you see that.
For those of you who are extremely curious, here are three pictures of me (view them at your own risk!):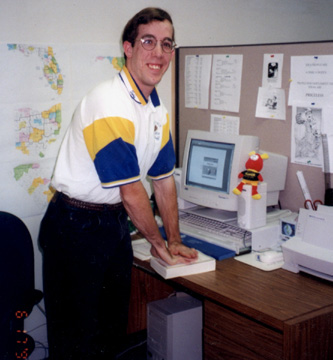 Picture of me at my old job (June 1999, I think)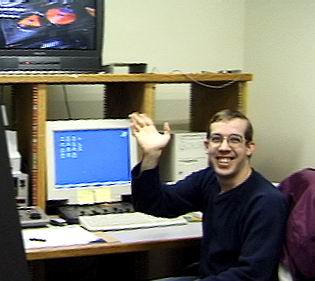 Picture of me at my current job (December 2002)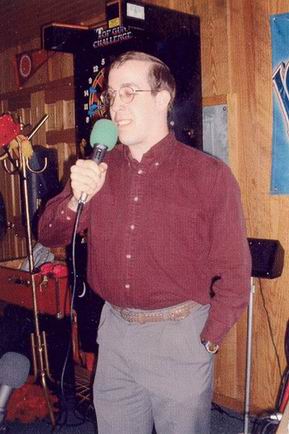 Picture of me singing "Auld Lang Syne" at the office Christmas party in Exmore, Virginia (December 19, 2002)
Now that you know a little bit about me (including what I look like), you're probably wondering why I am so interested in Celtic music. To be honest, I haven't completely figured it out for myself yet. It all started about four or five years ago when I got my hands on a copy of Narada's "Celtic Odyssey" CD. I don't know for sure why I bought it, but I did - and it's just gone downhill from there. I eventually discovered the "Thistle and Shamrock" on the radio, and that ended up being the thing that got me permanently "hooked" on Celtic music. If that program ever went off the air, I'd probably suffer terrible withdrawal symptoms.
But why do I like the music so much? Obviously the first thing that attracted me was the sound of it. Or, more appropriately, the sounds of it. There are so many different styles of Celtic music, and so many different feelings and messages are conveyed through the music. Slow, mournful airs combine with swinging strathspeys, graceful waltzes, unbelievably fast-paced reels and other tunes to provide a musical experience that has a lot to offer. (No, I'm not a music critic or a professional writer...but it does sound a bit poetic to me.)
After listening to the music for a while, I began to discover that there is a great deal of history behind the music. Some of the musical traditions (and, in fact, some of the tunes) are centuries old, and are still alive today. There are so many stories behind the music - not that the music lacks the ability to tell stories on its own.
What else can I say? I just love the music. I hope you will, too - if you don't already.

By the way, if you want to learn a little more about me than what's on this page, please take a look at my "Twenty Questions" page, or take a look at my newly created site called "Tony's Scribblings and Such." That site grew out of some of the content on this site that wasn't strictly related to Celtic music, so you may find a few familiar things if you've spent a lot of time here.